After selling more than 50 million smartphones in 2015, OPPO has taken advantage of the Mobile World Congress 2016 to present two new technologies in the smartphone user experience: the image stabilizer "SmartSensor" and the new battery charging technology, the Super VOOC load Flash
Super VOOC Flash load. 15 minutes = 100% battery
the battery is a major element in the choice of smartphone because often a problem for users. To end the disadvantages caused by the batteries to short battery life, OPPO has introduced its new technology called Super VOOC Flash Load
Super VOOC Flash Charging is the expanded version of the original Flash VOOC load created by OPPO in 2014 and used today by more than 18 million people worldwide. The Original Flash VOOC load was therefore revolutionized battery charging, to receive 2 hours of call after only 5 minutes to load . The Super VOOC rises to a higher level and offer 10 hours autonomy in call mode after only 5 minutes to load . It can charge a 100% battery 2500 mAh in just 15 minutes .
SmartSensor Image Stabilization "the revolutionary image stabilizer"
Smartphones have taken over the cameras or conventional cameras, photographic performance by a factor of smartphones essential choice, most often affecting purchasing decisions. Following its commitment to innovate and surprise users, OPPO decided to offer users of its smartphones the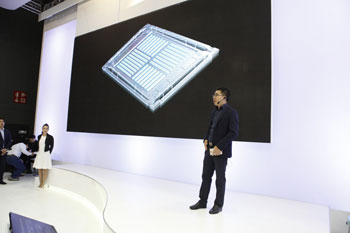 option to " take photos anywhere at any time "
There are two types of optical image stabilization technologies. that based sensors and that based on lenses. Given the size of the cameras of smartphones, the technology used until now have always been based lenses based on MEMS (micro-electro-mechanical system). SmartSensor is the OPPO first optical image stabilizer based sensors in the world of smartphones. It is also the smallest optical stabilizer of any kind image in the world.
At MWC 2016, OPPO has also focused on its new strategy of "Camera Phone" . In this context, OPPO plans to strengthen its commitment to revolutionize photography in the world through more research, innovations and developments.