New technologies and innovations yielding growth in Central Africa
Internet at age 20, and 25 mobile phones, the public Cloud 10 grand …

We are still at the dawn of an upset combining technology and communication

How Central Africa saw the access to digital technology and what's happening at the heart of the people
When Central Africa appropriates new technologies …
If the central African country on the margins of global development in terms of production on the technology sector, they nevertheless tend to frequent users.
I suggest a dip in two Central Africa, Rwanda and Burundi is to understand the technologies used and in what context countries.
Having found in France in the last 10 years that many companies had developed offshore platforms in Africa, it is now an important change took place as the platform grow the business locally and with local expertise . It has therefore become an important branch manager CA, which was not originally planned
The factor of this development is the huge need for companies, governments, and of course people local in Africa.
"I come home from Rwanda and Burundi where I had the opportunity to do my own field experience, "
Going to meet the locals and experiencing the habits and customs of the country, especially in terms of ICT (telephone, internet). I was able to draw in outline a portrait as objective as possible from one country to the recent technological development, but no less dazzling.

First things first … Arriving in the country
Far cumbersome procedures administration that may be encountered in some African countries, Rwanda knows how to stay simple and effective.
To get there, a simple form to fill in online stating your means entry into the country (eg in flight by the Kigali International Airport), and specifying the type of Visa used.
If you expected to wait 40 minutes at customs or immigration , forget it. Once out of the plane (if you choose this option), you will need your passport and $ 30. Neither supporting nor additional papers in five minutes the formalities are done and your passport stamped.
Personally, it took me all in all about thirty minutes to deplane , to stamp my passport and get my luggage.
10 days in Rwanda, cities, villages and trek into the bush and then 10 days in Burundi, including two in the DRC, I selected these beautiful countries, or again and apart from the DRC, paperwork remain light. Simply show up at the border with his passport.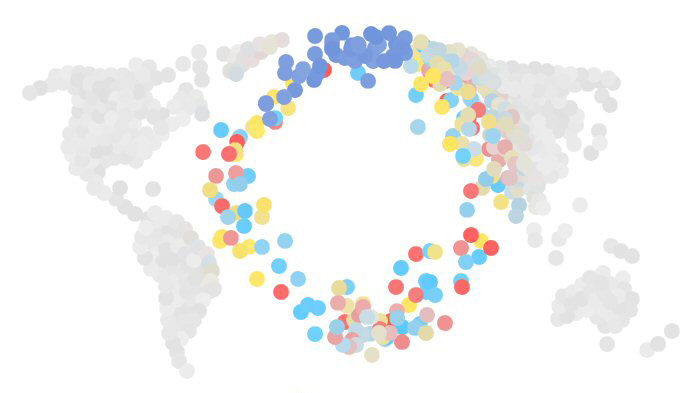 h3 <> Starting a business in Rwanda
often long and tedious, the mechanism of entrepreneurship once again takes a new dimension to Rwanda.
To facilitate this process, the Rwandan government consolidated into one organization (RDB to Rwanda Development Board) and building: the IRS, the Chamber of Commerce and the formalities of starting a business. According to sources close to having experienced this system it is possible to start a business in half an hour by the clock.
A real opportunity thus offered to Rwanda in 2014, here or in any other countries create business succession obstacle course.
A new trend … The mapping
Mapping the internet is more than a trend. The Google Earth application, in addition to being one of the largest public access innovations in recent decades, has become a tool for everyday navigation accessible to all.
Using geolocation" offline "
These new systems mapping are increasingly used, especially by the media, which can now illustrate the information by locating places on maps , allowing the general public to visualize the location, topography (with 3D display ) and even architecture (Thanks to the "Street view") of the place in question.
Google maps is a complete and intuitive tool that locates a point, to calculate a route but also create your own custom maps, like the ones I use for my field studies.
The maps system will save up the cards in "Offline" mode, allowing use maps on mobile, tablet or notebook without connecting.
Returning to Central Africa as well.
In this study j 've seen many users (always on the three media: mobile, tablet and notebook) use maps, whether they are farmers or members of NGOs. This tool clearly revolutionized vision rays stock transactions to be conducted. The connection of these cards with the data by social networks allows for example to monitor and real-time geo locate an individual or a team. This tool can be very handy for foreign-based with field teams in Africa, in areas organizations often poorly represented by cards in classic format.
Mapping for / h3 NGOs <>
For example, the platform of participatory micro finance international solidarity (which is one of the tasks on which I stand), was able to develop with this new mapping tool: www. microprojets.org.
Mapping there lets see what are the current projects , where they are carried out, which the pilots, and add additional functions to identify the particular combination that leads the project, or to donate via online payment. The main innovation brought by this tool is based on the access to information quickly, potential beneficiaries of donations will be able to know in seconds where to turn for support.
In fact
illustrate the situation.
A Rwandan village need an emergency drill for the community is deprived of water during the dry season . At that time women usually do more than 20 miles a day with basins to supply the village with water. The village will now be able, with this tool, see what projects are carried on the theme "access to water" made in Rwanda and contact the carrier or associations of the project.
The community can in this way enjoy a field expertise and extensive knowledge of the subject, to address these issues and to provide sustainable solutions. The African market for new technologies.
With 1 billion people on the continent and estimates 2 billion in 2050, Africa is without a doubt THE market to win for those involved in new technologies.
Nigeria for example, is now populated with 160 million inhabitants, a figure expected to rise to 350 million by 2050, making the country the third most populous in the world.

The opportunities are real, and operators mobile telephony have understood
The continent rose from 51 million subscribers in 2003 to 400 million in 2012 and it is estimated that the mobile telephony represents almost 2% of the GDP of African countries. The mobile operators account for an average of 7% of tax revenue on the continent.
The evolution of ICT in this region is rapid and exponential. In 1992, 75% of Africans do not have access to mobile telephony. Today all feature, even if the infrastructure and therefore access to the network are highly variable.
In terms of investment figures are no less impressive. They accounted for 55 billion euros in 2008, they were $ 130 billion in 2013 Prospects 2015 totaled about it at € 280 billion.
Stay with the realities hit by infrastructure
The sticking point remains on infrastructure. No network! No telecom towers = no network, because if in Europe we have developed through ADSL over the phone, in Africa there are no wired. The only way is to route the fiber or through mobile phones. The fiber comes gradually but comes from undersea cables, so the landlocked country will have to wait, and the people suffer.
So what solutions to use new technologies ?
Well we like with Minitel, the simplest solutions are the best: SMS king! Yes it is used on the SMS 85% of mobile which reigns master. Whether with mailing lists or other users can stay in touch. And even goes beyond.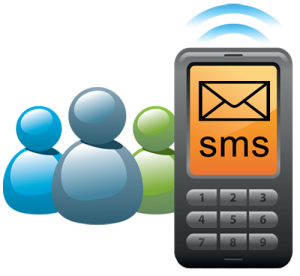 In the Rwandan villages such as all Users are grouped in the form of communes, towns or villages and develop mailing lists via SMS.
These lists allow families to know the information on the subjects to which they subscribe, they subjects such as health, births, changes in administrative procedures, or security.
As I reached in remote villages, people are curious to my initiative, it was communicated SMS that my status was French and that I was representing no danger, the doors of the families were so open and more easily.
The multiplicity of these lists is a major asset to the daily lives of residents . Families remain in contact and children studying in the capital are aware of the life of their village.
The big social networks and public and professional emails …
Central Facebook, Twitter and other public networks Africa are opportunities that can open up to the world . Francophone plays alone a major role in the connection between African and Europe or the world. Emails are always a major way to develop networking and business.
Professional networks in the process of networking or job search help also to develop impressive networks. LinkedIn seems to be a more powerful. Its functions to highlight a profile of skills, companies are only a small part. The opportunity to be associated with projects that involved other profiles is an asset master in order to develop his skills. Central Africa is thus presented in areas of expertise but also profiles of vacancies, business projects and all this in a powerful synergy coupled with a selective search engine.
Microsoft Windows & amp; … Nokia
One of the major strengths of Microsoft is well on its historic presence in users Africa, and Windows PCs are everywhere! With the acquisition of Nokia, Microsoft could become a developer of OS (Windows Phone) but also hardware and the new Lumia 930 is a prime example …
I consider him a better IPhone and open
Eg "Here" application allow navigation, travel, public transport, image management, public transport …
Success for this Smartphone could be the last "Nokia"
It is very likely that Microsoft can combine its new Windows 8 OS to carriers such as smartphones, tablets and notebook surface from different brands. A real software ecosystem as hardware, it is this sequence that Apple and Google will have a serious competitor.
The deployment strategy of the new OS "Threshold" could also be an event with a free online system A new Windows 9 open
The Mobile-Banking, a new social network
On this side few surprises, Africa accounts for only 80%- of M-banking, now weighing more than 2 billion Euros by Ecobank (present in 34 African countries) market. Principal holders of the phenomenon operators are: MTN (South Africa) Orascom (Egypt), FRANCE TELECOM / ORANGE (France), BHARTI AIRTEL (India), MOROCCO Telecom (Morocco), VODACOM (South / UK Africa) and MILLICOM (Luxembourg)
Mobile Banking is already well established and widely used in this region . It is embedded in the social structure of villages and families, and provides among others to overcome the lack of access to physical banks in remote areas. This is a reflection of what users are looking for. Available, inexpensive, easy to use and practice
A question then arises, why not us ? Why the North they do not use the opportunities offered by the Mobile-Banking? Simply because they have access to a powerful network and offering a wide range of possibilities, both in terms of online banking as social networks. Internet
Far be successful rapid mobile telephony, Internet struggling to make a place in Africa, especially in sub-Saharan Africa. Even today, it is the region of the world where Internet is less developed, but so it is also the region with the highest growth potential in the years to come.
And the numbers speak today 65% ​​of the African population has access to a network 2, 3 or 4G.
In this regard, the estimates predict a half billion users by 2050 and more contrast between the different countries is still very hard, as if almost 80% of Rwandans have access to the Internet, only 20% of Ethiopians have that privilege. On average 11% of the African population has access to internet.
What supports for ICT in Africa
Contrary to what is widely communicated in the media I do not think at the end of the era of Notebooks. They are a major solution to the BYOD (Buy Your Own Device, is to use its own tablets, laptops or mobile phones at the office) and work environments whatsoever.
Tablets, as intuitive as they are, can not compete with a PC in terms of storage, power, or software.
The notebooks are evolving so fabulous, now using the touch screen technology (absent on MAC) and new interfaces. Windows 8, despite its limited success, remains one of the best OS I've had to use in terms of use, intuitiveness and stability. Future developments will concern more so certainly touch pads, but the notebooks.
It is precisely what countries are sensitive growth, that is to say over 60% the African continent. An autonomous mobile tool, reliable, operating both locally and in online to meet ALL of their needs.
Big Data and social networking, an opportunity for Africa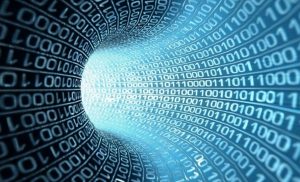 Social networks
Social networks are definitely the new world powers today. Beyond the physical boundaries and geographic areas, users are grouped into a huge interactive network or they can evolve, share information, meet and connect with each other.
The "Arab Spring" having taken place in recent years in North Africa, organized and controlled via social networks (including Facebook and Twitter), is neither more nor less than an illustration of this phenomenon and a demonstration of the power of these networks. Connecting million users between them represents a major opportunity for Africans and offers new perspectives for many factors of development of the countries of this region.
We should also mention the numerous and powerful analysis tools today to manage professional pages on social reals. That bed, what time, with what computer, what article, click what and with what objective. Everything is traceable and identifiable with warning systems and analysis and even coupled with media campaigns automatically controlling budgets in real time.
Big Data
In addition to networking is the way it is now possible to manage contacts, projects, funding, and thousands of data which allows to consider the power of the best big data or metadata . The powerful new software such as CRM allow FINALLY imagine the relevant operating data , but also methodical and time is no longer a hope but a reality exploitation.
demonstrates how the contacts are managed by our simple Smartphones: a contact is no longer a mobile phone, but an email, a Facebook, Twitter, LinkedIn, a postal address, and profile pictures
. Facebook is a smart step backwards for the Future
Facebook has understood there is little mobile users in Africa have a Smartphone and a good connection. So how Africans could they use massively the first social network in the world
Simply with SMS!
Facebook effect to develop a dedicated mobile phone users legacy application. By connecting to an Internet you can with your Facebook implement this system account, you will receive messages, emails, friend requests … by SMS!
Opportunity to respond and so stay connected. A simple but incredibly effective tool to attract a clientele not yet equipped with the latest Smartphone cry
Big Data is probably the biggest business / global service never considered. is the treatment of internet data (users, emails, discussions, photos, etc.) by connecting them overlapping, gathering to compile and extract information that will be used for commercial purposes or not. Social networks like Facebook are the biggest contributors to the business, collecting and providing a wealth of information for the past ten years.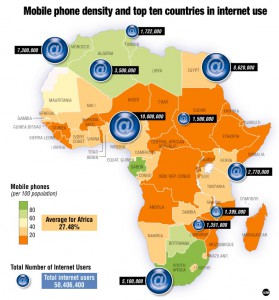 We are seeing for a few years in the development of Web "3.0″, which offers an even greater level interaction with users . For example, an illustration of this new wave of the internet: behavioral advertising Criteo, a nugget well French introduced in 2013 … The Nasdaq
Nevertheless, a subsidy to brake! development of Big Data: operational data processing
In fact the mass is such that it takes powerful tools and developers can insert continually necessary systems to optimize. information to be published. Therefore the business will not grow as fast as the technology on which it is based.
Microsoft, Apple, Google … Net giants in Africa
If spaces on Cloud mobile, tablets and notebooks encounter a runaway success for several years, it is more difficult to envisage a Cloud OS.
70% of the population under the age of 30 years, the African population curve seems particularly suited to the technology sector
It is nevertheless the challenge that aims to meet with the new Microsoft Windows. Microsoft has decided to offer for sale the Windows license, even if it is often installed on the notebook, mobile and tablets with Surface. However, to be competitive with the giant Google, it is likely that Windows 9 is free and available cloud-as does the Mountain View giant.
But how Microsoft can happen to overstep its competitor, given the fact that it relies on its essential search engine
One solution seems to detach. Microsoft must conquer new markets, and Africa is a colossal. Some 500 million new users in African countries should have access to ICT by 2050.
In addition, 70% of the population aged under 30 years, the African population curve seems particularly suited to the technology sector. If Microsoft manages to retain young users, the brand provides a growth fast and durable.
Google, unlike its competitors, manages to unite the world through its famous search engine. The URL is automatically accepts same in all countries (www.google.rw in Rwanda for example). Language, news, tastes and preferences of each are constantly emphasized, and this is a master asset for Google to provide tools and solutions to new markets. For example: Excel, Word and Powerpoint, which are offered for free in the Drive (Cloud offering) Google
The main strength of the Google brand, however still relies on his heart. art, the search engine.
The company has managed the incredible challenge of making its product a must that adapts to changes in society by making available to updated regularly. One illustration of this lies between permanent watch in partnership with other Analytics to analyze statistical tools and Adwords to purchase online campaign and keywords and Adsense for selling space online advertising.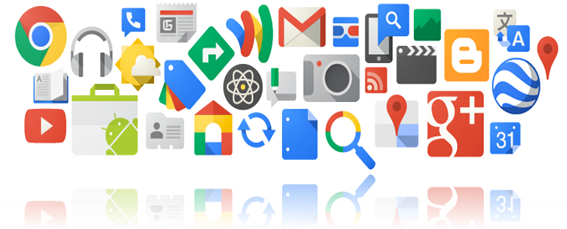 In addition to that, countless service activities …
N otamment Gmail, Maps for mapping and directions, Google Earth to travel the world from your living room, and online that is shared in the office or in private agenda. Email alerts with keywords, the Cloud "Drive", the Readers, e-commerce … finally add intuitiveness and record availability, free and you get a key technology giant.
And it does not stop there. The company is also positioned in the mobile market (Nexus 5), tablets (Nexus 7 and 10 who are serious competitors to Ipads) and continues to renew itself by offering products covered by pure innovation and simple.
Witness the Google Glass (offering users a unique and new experience) or projects cars without drivers. Everyone will be understood, therefore Google finally put growth on the keyword of our time, INNOVATION.
And I'm not talking about system alert emails, allowing you to receive an email if one of your key words appear on the Internet, or Google news which can be simply set up according to sources or as its themes. Info Africa is also well referenced.
The only failure in the assets of the giant at the moment, its social network Google+.
Indeed it fails to attract the general public and to its Director recently left the ship. My gut tells me still a redemption could allow Google to start on the front of the Social Network. Why?
Two lines of response. Firstly, because today it is long and complex to conquer users connect to multiple accounts. Facebook crushes the competition and innovates. Difficult to catch, impossible to overtake. Furthermore, because when Google wanted to conquer the video he just bought YouTube, the global publishing tool and sharing video online.
Giants open or closed to the conquest of Africa
Between the three top seeds such as Apple, Google and Microsoft, the question arises.
Apple is clearly closed. The result: virtually no penetration in Africa. Itunes is guilty of this.